Welcome to God's Rainbow of Promises!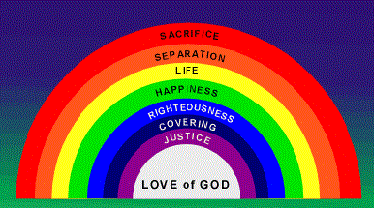 Pets become a part of our hearts-we adopt them as family right from the start. We cast all our love on their kind, gentle souls, but, like you and I- they too, grow old. When we grow tired and weary, God gave us a choice-we have doctor's and care, but our pets have no voice. We may understand why we're changing this way, but a creature's language is shown in his actions each day. What they do with their bodies, how they act towards a friend- is their way of saying their time's at an end. And, as wonderful a gift as our "Free Will" can be, It pains us to choose our loved pet's destiny. When we see them in pain, our hearts say one thing-when we see them lash out, we deny what truth rings. For we don't want to lose the precious one that we've loved-but like humans on earth they'll live on up above. Oh. I know how you weep at making this choice- as you speak for your pet as he has no voice You are kind, you are loving, and I know you have tried- to ration and reason with the truth that's inside. No one said life was easy, of this we can say-and I know you're heart's breaking on this tragic day. But, trust in your heart what your instincts have said- That God is guiding you amongst all your dread. I weep for you now as I know your heart aches- but my love is with you as your decision you make. God gave you the gift of some wonderful years-with a pet who was healthy and healed many tears. But now it's his time, for he's not the same pet-and I say this with sadness, with tears and regret. "For every thing there's a season," remember, and then, "A place for every purpose, under Heaven." © Ellen M. DuBois
"It was for her (my sister) and for anyone else who's had to live the nightmare of putting a loved pet down that I wrote this poem. Over time, the pain lessens and although always missed, we are left with the wonderful photographs and memories of our 'best friends'. They can't be with us forever, but we treasure the time that they are with us."
Hope Angel Bracelets:Hope Angel Bracelets- Give the gift of hope to someone who could use a 'faith lift', some cheering up, or for any reason...and give one to yourself! $14.00 each, two for $25.00, plus FREE shipping in the U.S.A. Packaged in a lovely, organza bag, ready for gift-giving!Click here!

Weight Loss Gods Way. Stop Dieting - Renew Your Mind And See Your Body Transformed Forever!